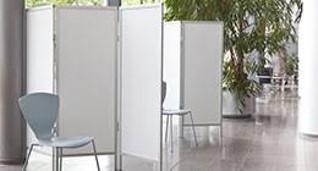 Privacy is essential in a hospital or doctor's office. Medical information is sensitive, and it is the patient's right to maintain confidentiality. There are also moments that other individuals may not want to witness, such as open wounds. There are many methods that the medical field employs to protect patient privacy, especially with the use of portable room dividers.
Healthcare can be unpredictable, and sometimes there is a need for privacy in an area that lacks permanent structural features that separate patients. A Folding Privacy Screen should be part of all medical facilities' inventories. Consider an emergency that occurs in an open waiting room. If the emergency involves a situation that should be kept between the patient and professionals, a Folding Privacy Screen can quickly and easily be set up for instant isolation. The device is especially helpful in areas where blood drives take place. Usually, blood drives are set up in locations that serve other purposes, and there is a lack of privacy between individuals. Having a portable wall between those having blood drawn can make a big difference and make patients feel more comfortable. Some individuals may also be squeamish and not able to look during a blood draw, so the Folding Privacy Screen can prevent them from seeing another individual in the process. Another use for the medical device is in the field where there are multiple injuries, such as a war-torn area. The screens can be set up anywhere and transform a location into a setting more similar to a doctor's office.
Storage is efficient because of the hinged edges that allow the screen to downsize. The device folds into one flat package, so it is easier for personnel to transport. Upon standing the Folding Privacy Screen up on the floor, the panels unfold into a portable wall. There are various options available when considering a Folding Privacy Screen. The first selection is the quantity of panels. More panels mean the Folding Privacy Screen will be longer and provide more area for privacy. An office or hospital can choose only 2 panels, or even 5 panels. Another option to consider is the type of curtain on the panel. A Folding Privacy Screen is composed of a metal frame with curtains over the panels, and the customer is able to select the color of the curtains. The bases also vary, as some are set on wheels and others are stationary.
Recent Posts
Ominimed's president Steve Heffernen recently spoke with MD+DI about the effects that COVID-19 is …

Medical offices come in all shapes and sizes, and sometimes space can get cramped. A parent may try …

Privacy is essential in a hospital or doctor's office. Medical information is sensitive, and it is …